All Mountain Kids Staff are trained in First Aid and CPR (at a minimum) and have passed a criminal background check.  Staff Training includes learning Mountain Kids safety protocol, and our mission, philosophy and activities.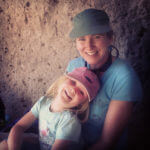 Katie Macaulay
Katie is the Founder and Director of Mountain Kids.  She feels strongly about enabling kids to leave hectic schedules and technology behind in order to wonder, learn, and play in nature. Katie earned her degree in Education from the University of British Columbia and has studied the Art of Mentoring at the Wilderness Awareness School. Katie was a founding member of Journey Montessori School, a nature-based elementary  in Santa Fe. However, some of her most formative learning did not occur in the classroom. During her participation in a Canadian Peace Corps-type program in Guyana, Katie initiated a Big Brother-Big Sister program for street children. This challenging and ultimately very rewarding program led her to greatly value experiential learning, but also made her want to make a difference in her own community.
Since then, Katie has taught in the classroom, and has accumulated more than 15 years experience leading children and youth in outdoor settings. From the forests and waters of British Columbia, to service learning expeditions in Costa Rica, and the mountains of New Mexico. Prior to her life as a mountain mama, Katie taught middle school Global Studies and Photography at Santa Fe Prep.
Carmen Harris
Carmen Harris has worked in early childhood education throughout the last decade. Her work couples her concern to nourish the exuberant wonder of childhood with her love for the magic of the natural world. She has a great love for wildness (within and without), and an abiding passion for the rooted world of plants. Herbcraft, botany, and gardening all feed Carmen's spirit, as does her pleasure in dance, and her training in the visual arts.
Growing up in New Zealand, Carmen was informed by the mountains, valleys and waters of that land, and by her proximity to Maori culture. She has been participant in and organized numerous classes in plant medicine, primitive skills, tracking, and bodywork. Carmen is a graduate of Waldorf Early Childhood Education from Sunbridge Institute in New York. She is inspired by the Northern European tradition of the Forest – Farm School seeing a resurgence world wide and she is dedicated to moving education out of the classroom and into the land, to make hands-on outdoor education available to kids of all ages.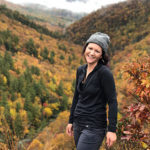 Annie Egelkraut
Annie grew up going on many camping and hiking adventures, which instilled in her a love for nature and the mountains. As a grown up, Annie studied Recreation Management with a focus in Outdoor Experiential Education at Appalachian State University. While there, she spent much of her time volunteering in the community, working with the local middle school mentor program, the Cub Scouts, and the Special Olympics.
After college, Annie worked as a Recreation Specialist at a local summer camp, and went on to work with special populations at an adventure based summer camp in the heart of the Appalachian Mountains. Most recently she worked with special populations for a GAP Year program in Northern Wyoming.
Annie is incredibly excited to be joining the Mountain Kids! Team this summer to share her love and passion for the outdoors with the kids of Santa Fe. Annie is a certified Wilderness First Responder and a Leave-No-Trace Trainer and loves to hike, backpack, camp, run and climb. She really finds enjoyment in just about any outdoor activity, is curious about the environment, and thrives on travel and new experiences. We are psyched to welcome Annie to the team!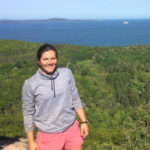 Lindsey Rotche
Lindsey grew up in the Appalachian Mountains of southwestern Virginia where she learned about her love of nature and the outdoors.  She spent her time canoeing, rock climbing, snowboarding, hiking, backpacking, and biking.
She attended college in northwestern North Carolina at Appalachian State University majoring in geography, minoring in sustainable development and geology, and earning a geographic information systems (GIS) certificate.  In addition to academics she was a trip leader for Outdoor Programs for three and a half years and played club ultimate frisbee.
She has worked as a Camp Counselor for five years at Nature Camp in Virginia, a Ski Patrol at Ski Santa Fe, a Rafting Guide for Santa Fe Rafting and a GIS Intern at the Trust for Public Lands. In addition to being a Registered EMT, she has been trained in Swift Water Rescue, Leadership and Group Dynamics, and (most notable for kids!) she can lick her elbow and finish a Rubik's Cube in less than two minutes.
She is very excited to begin working for Mountain Kids and continue to share her love and passion for the outdoors. We are thrilled to welcome Lindsey to the Mountain Kids! Staff Team.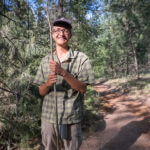 Max Murphy
Max is a second generation New Mexican, who currently attends Lewis and Clark College in Portland Oregon. This is Max's third year as a Mountain Kids counselor. He is very interested in anthropology, and how landscape effects cultural and personal development. He believes that it is essential for young people to fully experience being part of our beautiful Earth, and that huge amounts of curiosity, joy, and self awareness can develop from interactions with the Wild.
Max was born and raised in Santa Fe, and developed a strong love for the landscape of the Southwest at a young age. He has spent hundreds of days hiking, fishing, rafting, and backpacking in New Mexico, Colorado, Arizona, Wyoming, Oregon, Washington, California, Nevada, and Utah. From 2012 to 2014 he worked for Galisteo Summer Camp, leading (and occasionally following) young children on explorations in the Santa Fe area. He is very excited to be back for his third year with Mountain Kids, and hopes that he can impart some of what he has gleaned from the wilderness to our campers.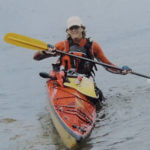 Steve Gibons
Steve Gibons has enjoyed camping and water-related activities since he was very young, growing up on the lakes of Michigan. After college he moved to Hawaii where he lived for 22 years, leading ocean kayaking adventures, humpback whale tours, and more at a the Club Lanai Resort on the island of Lanai.
He moved to Oregon where he opened up a Scappoose Bay Kayaking, on the Columbia River. His four-day kayaking trip was written up by National Geographic as one of the 'twelve best activities in the world.' Wow, that's some praise!
While living in the Pacific Northwest, he kayaked more than 4000 miles, teaching kayaking to thousands of kids and their parents. Steve believes that kayaking is not only a fun mode of transport, but also a unique vantage point from which to view the riches of nature.
Steve retired to Santa Fe several years ago, and is excited to get back on the water with kids to share his love for water and discovering new and unexpected things from the vantage point of a kayak.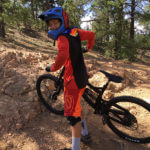 Ulysses Yarbrough
Ulysses is a student at the Santa Fe Community College, where he especially enjoys film and biology classes. He has lived in the Española Valley for his whole life and enjoys working with kids at Montessori schools in Santa Fe. Ule (pronounced yoo-lee) is an avid mountain biker, racing competitively in the disciplines of downhill and enduro. He is excited to be sharing his passion for mountain biking with other kids at Mountain Kids!