All Mountain Kids Staff are trained in First Aid and CPR (at a minimum) and have passed a criminal background check.  Staff Training includes learning Mountain Kids safety protocol, and our mission, philosophy and activities.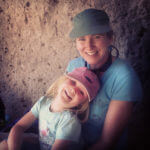 Katie Macaulay
Founder, Director
Mountain Biking & Mountain Girls Instructor

Katie is the Founder and Director of Mountain Kids.  She feels strongly about enabling kids to leave hectic schedules and technology behind in order to wonder, learn, and play in nature. Katie earned her degree in Education from the University of British Columbia and has studied the Art of Mentoring at the Wilderness Awareness School. Katie was a founding member of Journey Montessori School, a nature-based elementary  in Santa Fe. However, some of her most formative learning did not occur in the classroom. During her participation in a Canadian Peace Corps-type program in Guyana, Katie initiated a Big Brother-Big Sister program for street children. This challenging and ultimately very rewarding program led her to greatly value experiential learning, but also made her want to make a difference in her own community.
Since then, Katie has taught in the classroom, and has accumulated more than 15 years experience leading children and youth in outdoor settings. From the forests and waters of British Columbia, to service learning expeditions in Costa Rica, and the mountains of New Mexico. Prior to her life as a mountain mama, Katie taught middle school Global Studies and Photography at Santa Fe Prep.
---
Carmen Harris
Wildside Afterschool/Saturdays Instructor

Carmen Harris has worked in early childhood education throughout the last decade. Her work couples her concern to nourish the exuberant wonder of childhood with her love for the magic of the natural world. She has a great love for wildness (within and without), and an abiding passion for the rooted world of plants. Herbcraft, botany, and gardening all feed Carmen's spirit, as does her pleasure in dance, and her training in the visual arts.
Growing up in New Zealand, Carmen was informed by the mountains, valleys and waters of that land, and by her proximity to Maori culture. She has been participant in and organized numerous classes in plant medicine, primitive skills, tracking, and bodywork. Carmen is a graduate of Waldorf Early Childhood Education from Sunbridge Institute in New York. She is inspired by the Northern European tradition of the Forest – Farm School seeing a resurgence world wide and she is dedicated to moving education out of the classroom and into the land, to make hands-on outdoor education available to kids of all ages.
---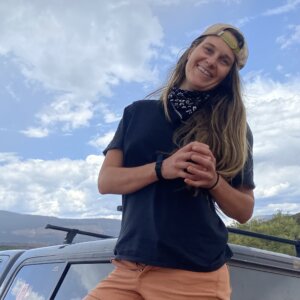 Sal Blakemore
Operations Director, Mountain Biking, Mountaineers, & Mountain Girls Instructor

Sal (they/she) is a beasty wild one. They have a deep love, respect and appreciation for the outdoors; travelling, mountain biking, camping, reading & writing, floating down rivers and wandering through the landscapes of the high desert make up Sal's self-care system.
After leaving the country for [what was supposed to be] a two-month trip, Sal spent an entire year (May 2018-May 2019) travelling by herself through Australia and New Zealand. Since returning to Santa Fe, Sal has returned to academia to continue their education within the fields of Human Sexuality and LGBTQ+ studies.
Sal has professional backgrounds in outdoor education, human sexuality, social work and culinary arts and is fascinated at the intersectionality of it all. Sal aims to inform, empower and inspire youth so that they can make informed decisions about how they choose to move through their own lives.
---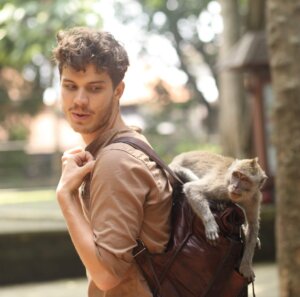 Gabe Otter
Wildschool Instructor

At the age of five, Gabe looked up at his mom from his car seat, headed north on I-89 through Central Vermont and asked, "What is on the other side of the mountain?" Ever since the question left his lips he has been on a quest to get to the bottom of this mystery. Following his curiosity led him to work for several summer camps in Vermont, took him on a 15 country, 4 year journey during his undergrad with Long Island University Global, and landed him a job teaching bilingual kindergarten at an international school in Chiang Mai, Thailand. His latest adventure was a cross-country road trip that landed him in Santa Fe, which he gratefully now calls home.
Gabe is absolutely elated to be working with young ones in the high desert this year at Mountain Kids! He is particularly excited to tell stories, climb trees and to drink SO much water!
---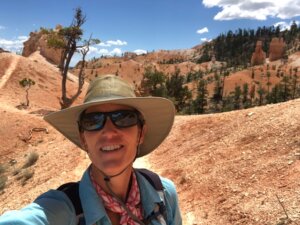 Monique "Mo" Schoustra
Wildschool Instructor
Monique (Mo) Schoustra has a hard time being indoors. She has been guiding cultural and natural history excursions in the southwest for over 20 years.  She enjoys teaching and learning from people of all ages in the outdoor classroom of the Colorado Plateau, and guides for several companies in Utah, Colorado, Arizona and New Mexico.
A "child in a very tall body," she delights in playing, singing, hiking, story telling, story listening and making discoveries outdoors.   Mo is a dedicated life-long learner who continues to broaden her knowledge of the geology, history, archeology, paleontology and ecology of the region.  Her interests have fueled her volunteer work in advocating for public lands protection and access, including the spectacular Valles Caldera National Preserve.
She has been involved with Mountain Kids! in a variety of ways since its inception and looks forward to ongoing adventures with the wonderful kids who bring their enthusiasm, cheer and creative ideas to the program.
---
Steph Findon
Wildschool and After School Instructor

---
Jordan Ramos
After School Instructor

---