CAMP AND REGISTRATION FEES
There is an Active Registration fee of $5.46 per week. A $100 deposit for each week of camp is due at the time of registration. Deposits may be paid by credit card and remaining balance may be paid by credit card or check. You may pay in full at the time of registration if you wish. The balance of camp fees is due two weeks prior to the start of camp.
TUITION ASSISTANCE
We have a limited number of spaces available for tuition assistance. Our goal is to develop a robust scholarship fund in order to reach all children, regardless of socioeconomic background.
To apply for Financial Aid download and submit the following application.  We have spaces reserved in specific camps for financial aid recipients. Applicants will be informed of awards within 2 weeks of the deadline.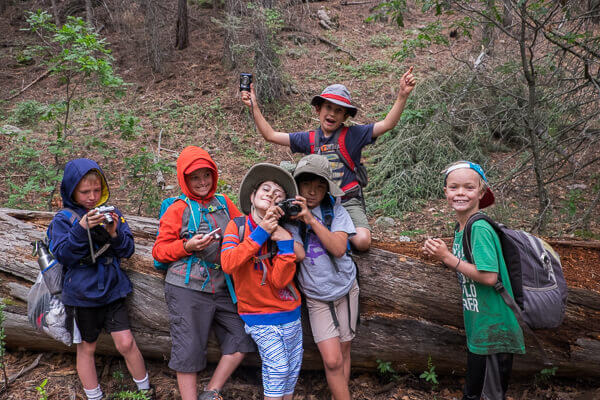 CANCELLATIONS AND CAMP CHANGE POLICIES
Cancellations prior to May 1st will receive a refund of all fees except for the $100 non-refundable deposit.  During this uncertain time, we are offering your deposit as a credit toward future programs.If you cancel prior to May 1st, we will refund fees above the $100 deposit. If you would like to switch weeks, there is a $20 change fee.
LATE FEES
Parents who arrive after 3:30 will be asked to pay $1/minute for each minute you are late.
RELEASE FORM
Parents must sign an (electronic) Release of Liability Waiver prior to their child participating in camp.  This includes a Photo Release which enables Mountain Kids to use images of your child on our Blog or for promotional purposes. This is done during Registration.
MEDICAL INFORMATION AND FIRST AID
Our first priority is the prevention of accidents.  By providing children with safety rules and guidelines for self-care, we aim to prevent accidents or illness from occurring. However, there are many circumstances that are beyond our control (weather, natural disasters, forces of nature, child behavior) and we can not guarantee the safety of of your child.  We use best practices for risk management in the outdoor industry.
During enrollment you will be asked to supply information about your medical insurance. Should a medical emergency occur you will be contacted as soon as possible.
We take allergies and medical issue seriously and need to know about these in advance. All our Staff are trained in First Aid/CPR and/or Wilderness First Aid.
Should your child require first aid at camp, we will administer it. If it is more serious than a cut or skinned knee, an Incident Report Form will be completed and you will be informed of the first aid provided. If an injury requires immediate medical attention, 911 will be called, you will be called, and your child will be evacuated immediately.
WEATHER POLICIES
If we encounter rain, our first priority is getting everyone in their rain jackets and hats. If it is raining hard, we head back to the Adventure Vans to get out of the rain.
We typically drive down the mountain to find sunny weather, but in the rare occurrence that we have rain in town we have the option to use the shelters at Fort Marcy, or the teepee at Base Camp. If the weather is really bad, we can shelter inside Fort Marcy or inside at Base Camp.
TOYS, KNIVES AND ELECTRONICS, NO THANKS!
Nature provides all that we need for entertainment. Please have your child leave toys, knives and cell phones at home. During Photo Safari or Adventure Filmmaking, children are encouraged to bring a camera.
WILDERNESS TOOLS, YES PLEASE!
Children may bring a compass, flashlight, signal mirror, bandana, or binoculars. These are especially encouraged during Wilderness Skills week, or our Bird week (binoculars).
DISCIPLINE AND BEHAVIOR ISSUES
Our goal at camp is to keep everyone safe, having fun and learning. Should a child at camp continually break our camp rules, creating unsafe situations, or provoke and demean other children, a parent meeting will be called. If the behavior does not improve following a parent meeting, we reserve the right to ask a child to stay home from camp for a day, or withdraw for the remainder of the session. There will be no camp fees refunded for a child who does not complete a session for these reasons.