Programs

Family Kayaking Adventures!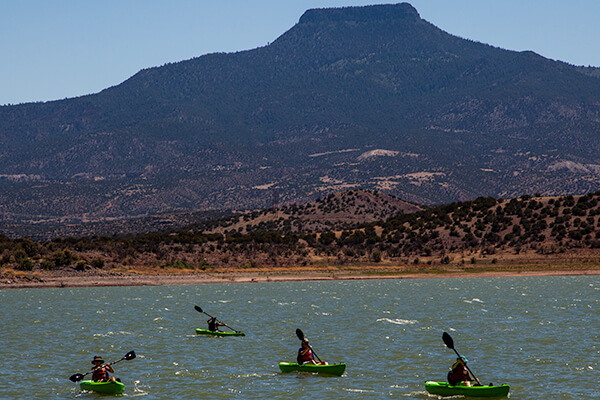 Family Kayaking by Reservation
Ages: 4 and up, younger children (4-6 years) will ride in a tandem with an adult.
8a-3pm | $97 per person | $79 for Kids ages 4-6 | Includes all equipment, professional guide, a lesson and park entry fee. Family will need to pack a picnic lunch.
Challenge Level:

Spend the day paddling one of New Mexico's beautiful lakes. Our professional guide will meet you to convoy to the lake together. Once there, everyone in your party will be outfitted with a lifejacket, paddle and kayak. You'll learn basic kayaking techniques and safety before getting on the water. We'll spend an afternoon paddling, swimming and exploring the lake. We'll load up after lunch, arriving in Santa Fe by 3pm.
Departure time can be shifted to 9 am or later, but plan on 7 hours for the excursion. Minimum 4 people per outing and up to 7 can kayak at one time. Larger groups may have to rotate kayak use.
Call or Email Katie to Make your Reservation Today.
Related Programs