WHAT TO EXPECT
Expect that your child will have a lot of fun, get dirty, make new friends and learn something new each day.  Your child will also be tired after a day with Mountain Kids.  They will likely be happy to go home and relax after camp and get a good night's sleep!
PREPARING FOR A MOUNTAIN KIDS! ADVENTURE
Be sure your child has a good breakfast to start the day.
Please sunscreen your child every morning (we reapply midday).
Your child should wear clothing that is appropriate for getting dirty!
Please label all of your child's belongings! We can not return lost items with no labels.
Please be sure they have a comfortable day pack they can carry. Campers will hike carrying their own gear.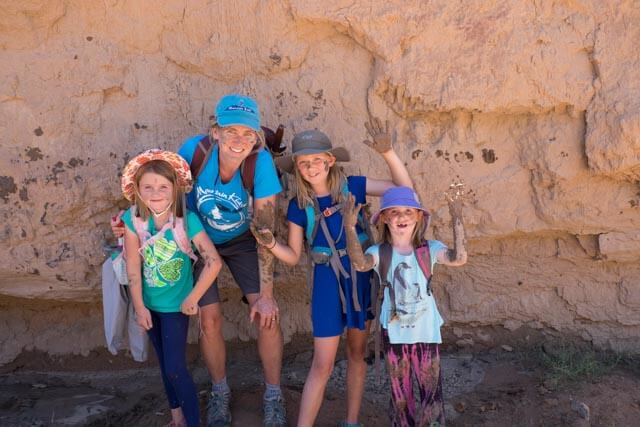 EXTRA CLOTHES
Please pack a fleece jacket, shirt, pants (or shorts), underwear and socks in a separate ziploc (or other) bag labeled with your child's name and bring it on the first day of camp. This will be kept in our Adventure Van for the duration of their enrollment in case of rain or water-soaked clothing. If they can fit extra clothes in their backpack and carry it comfortably, all the better! An additional pair of shoes or sandals is recommended should their feet get wet and dirty. Please label all of your child's belongings and collect them at the end of your week of camp.
EQUIPMENT LISTS
Remember "mountain weather" can change very quickly. A sunny warm day in town will be much cooler up in the mountains and can easily change to cold and rainy in minutes.
AGE GROUPS
Campers are divided into age groups: 5-8 (Hummingbirds) and 9-13 (Eagles). We do have backpacking trips for campers up to 14 years old. We offer a Counselor in Training program for those 13 and up who enjoy working with children and want to learn leadership skills.
WEEKLY/DAILY SCHEDULE
Regular camp hours are: Monday to Thursday, 8:30-3:30. Drop off is from 8:30-9:00 am and pick up is between 3:30-4:00. On Thursdays from 3:30-4:00, parents are invited to a Snack and Social. Please drop off no later than 9:00 am so that your child can be part of morning games and circle. Please pick up your child by 4 pm to avoid late fees ($1/minute).
PRE-CAMP, AFTER CARE AND FRIDAY CAMP
We offer Early Care, After Care and Friday Camp. Pre-Registration is required and is available during the Registration process. If you want to add drop-in at the last minute, please email or speak to us at camp to see if it is available. Early Care is 8-8:30 am and After Care is from 4-5:30.
MEETING LOCATION
We have a new and improved location! It will offer more opportunities for nature-connection and play – more shade, more grass, the Santa Fe River. Our new meeting location is Patrick Smith Park, off East Alameda Street.
FIELD TRIP LOCATIONS
Examples of our favorite locations include: the Beaver Ponds, Little Tesuque Creek, Big Tesuque Campground (the Big T), Winsor Trail, Norski Trails, Ski Basin, Bandelier National Monument (Tsankawi), Jemez Falls, Rio en Medio Trail, Las Golondrinas, Deer Creek, and Pecos Historical Monument. We also spend time at our Base Camp for projects that require more focus. We adapt plans when necessary, based on the weather and forest closure.
LOST AND FOUND
We do our best to keep hats on heads and children's belongings with them.  Despite our best efforts, we end up with a lot of misplaced items!  Please label all of your child's belongings so we can return missing items to their owners. Check our lost and found for any missing items. All items left at the end of the camp season will be donated.
TRAVEL AND BOOSTER SEATS
We primarily use 15-passenger "Adventure Vans" to travel to our destination each day.  Campers requiring a car seat or a booster must bring one to camp each day. Please label your booster with masking tape and your child's name, as many boosters look alike.